Lonnie Ballentine
2014

2014: Lonnie Ballentine (born April 23, 1993) is an American football safety for the Houston Texans. He played college football at University of Memphis. Ballentine was drafted by the Texans with the final pick of the seventh and final round (256th overall) of the 2014 NFL Draft. Lonnie and his wife, Brittany, have two daughters.
Justice Cunningham
2013

2013: Justice Cunningham (born January 14, 1991) is an American football tight end for the Indianapolis Colts. He played college football at the University of South Carolina. In the 2013 NFL Draft, he was the 254th and last player to be drafted. Cunningham was the second consecutive Mr. Irrelevant for the Indianapolis Colts, who chose Chandler Harnish as the last pick of 2012 NFL Draft.
Chandler Harnish
2012

2012: Chandler Harnish (born July 28, 1988), selected 253rd overall by the Indianapolis Colts, is currently a quarterback for the Colts. Harnish played college football for Northern Illinois University, where he was the Huskies' starting quarterback for four years.
Chetachi Ozougwa
2011

2011: Chetachi "Cheta" Ozougwu (born November 18, 1988) is a defensive end for the Chicago Bears. Ozougwu graduated from Alief Taylor High School. He played college football at Rice while amassing 197 total tackles and 11 sacks. He was drafted by the Houston Texans. On April 11, 2012, Ozougwu signed with the Bears.

Timothy Toone
2010

2010: Timothy Lee "Tim" Toone (born Feb. 14, 1985) played two years at Weber State as a wide receiver after serving a two-year mission to West Africa for the Church of Jesus Christ of Latter-day Saints. He was drafted by the Lions with the final pick of the 2010 NFL Draft and made the team. He was released in September 2012 and signed to the Atlanta Falcons active roster on December 10, 2012.

Ryan Succop
2009

2009: Ryan Succop was the 256th player taken in the draft in April 2009 when the Kansas City Chiefs selected Succop, a kicker from the University of South Carolina. Succop finished his rookie season tying an NFL record for highest field goal percentage by a rookie in a season with 86.2%. He also passed NFL Hall of Famer Jan Stenerud for most field goals made by a rookie in Chiefs history. He was awarded the Mack Lee Hill Award by the Chiefs in 2009, and led the team in scoring. At the end of the 2011 season, Succop signed a five-year contract extension worth $14 million, which includes $2 million in guaranteed salary and $675,000 in incentives if Succop makes a Pro Bowl and the Chiefs make the playoffs every season of his contract. On September 23, 2012, Succop became the Chiefs all-time leader in FGs attempted and FGs made in a single game (going 6-for-6) en route to a 27-24 OT win at the New Orleans Saints.

David Vobora
2008

2008: David Vobora, a linebacker out of the University of Idaho, was the 252th pick in the drafted, selected by St. Louis Rams. Vobora became the first Mr. Irrelevant to make the roster of the team that drafted him in the 2000s. When Vobora made his first career start at linebacker in the game against the Miami Dolphins, he was the first Mr. Irrelevant to start in a game during his rookie season since Marty Moore started four games for the New England Patriots in 1994. In September 2009, he was suspended for four games for violating the NFL's performance enhancing substance policy. Vobora stated that he would sue the company that produced the supplement he took, because it contained substances that were not listed on the label. In June 2011, a federal judge ruled against the company and awarded Vobora $5.4 million. Vobora signed with the Seattle Seahawks in 2011, was released and is currently a free agent.
Ramzee Robinson
2007

2007: Ramzee Robinson, a cornerback who played by Alabama, was drafted by the Detroit Lions with the last pick of the 2007 NFL Draft (255th overall). On June 29, 2007, Robinson signed a three-year contract with the Lions. However, on Sept. 1, 2007, he was cut by the Lions and assigned to the practice squad. He was promoted to the active roster due to injuries to other players at his position for the Lions' Week 7 game against the Tampa Bay Buccaneers where he notched two tackles on special teams. He also signed contracts with the Philadelphia Eagles, Cleveland Browns and Washington Redskins, who cut him in 2010. Ramzee currently plays for the Saskatchewan Roughriders.
Kevin McMahan
2006

2006: Kevin McMahan, a wide receiver out of the University of Maine, was picked #255 by Oakland Raiders. McMahon was cut by the Raiders during training camp. In 2007, McMahan was with the New York Giants. He led all Giants receivers in the final 2007 preseason game against the New England Patriots on Aug. 30 with 57 receiving yards. McMahan was released by the New York Giants a few days later in September 2007. He was added to the practice squad about two weeks later. He remained with the Giants' organization until the beginning of October 2007, when he was released. One week later, the Kansas City Chiefs signed McMahan to their practice squad, but only a week later, McMahan found himself, once again, released. In May 2008, McMahan, once again, signed with the Chiefs. He was cut after the Chiefs last pre-season game in 2008. McMahan currently works as a Regulatory Reporting Analyst in North Carolina. He also has several years experience as Behavioral Health Specialist working one-on-one with children with special needs.

Andy Stokes
2005

2005: Andy Stokes, a tight end out of William Penn University, was chosen by New England Patriots as the 255th pick of the NFL draft. In his senior year at Penn, Stokes was awarded third-team NAIA All-America and first-team All-MSFA honors. He finished second on the team with a career-high 42 receptions for 753 yards (17.9 avg.) and five touchdowns. Stokes was cut by the Patriots during training camp, but he landed on the roster for the Arizona Cardinals' practice squad. He was released on Aug. 21, 2006. Andy was named as one of Southern Utah's Top 40 Under 40 by St. George Magazine in December 2012. Andy has coached Dixie High School's football team for four years, and he also coaches and plays tight end for the Dixie Rebels semipro football team, which he co-owns.

Andre Sommersell
2004

2004: Andre Sommersell, an outside linebacker at Colorado State University, was picked #255 by the Oakland Raiders. He was cut by the Raiders and landed on the Baltimore Colts' roster in 2005. Sommersell played for the Edmonton Eskimos of the CFL in 2006 and was released by the Eskimos on March 30, 2007. In early summer 2007, Sommersell signed with the NFL Europe team Berlin Thunder and was released in July 2007. In 2008 Sommersell signed with the Italian Division I club Bergamo Lions where he also had his first coaching experience as a defensive line coach. Sommersell is currently Head Coach and a player for the Dubai Stallions, Emirates American Football League.

Ryan Hoag
2003

2003: Ryan Hoag, a wide receiver out of Gustavus Adolphus College, was the #262 pick by the Oakland Raiders. At Gustavus, Hoag had 144 receptions for 2,232 yards (15.5 average) and 29 touchdowns. He was the only Gustavus player with over 2,000 career receiving yards. In addition to playing on the Raiders practice squad, Hoag has also been a member of the New York Giants, Minnesota Vikings, Washington Redskins, Edmonton Eskimos, Jacksonville Jaguars and New York Sentinels. Hoag was a contestant on season four of the ABC reality television dating show The Bachelorette. On the debut episode, he said he was a virgin, explaining, "Christianity is first and foremost in my life. […] I don't have sex. I'm not going to do that until I'm married." Hoag also participated in the third season of The Bachelor Pad, which began on July 23, 2012 and he was voted of the following week on July 30, 2012. Hoag is currently a substitute teacher and tennis instructor in Minnesota.
Ahmad Miller
2002

2002: Ahmad Miller, defensive tackle out of the University of Nevada Las Vegas was selected #246 by Houston Texans. He was cut prior to the Texans' final preseason game. He then signed on to the New York Giants practice squad. He signed with the Cleveland Browns in August 2012 but was subsequently cut from the roster.
Tevita Ofahengaue
2001

2001: Tevita Ofahengaue, a tight end out of Brigham Young University, was picked #246 by Arizona Cardinals. He was released from Arizona and picked up by the Jacksonville Jaguars. When told he could bring his family to Irrelevant Week, he showed up with 60 family members from his native Tonga. Now the "Tevita" rule allows for only one family member.
Michael Green
2000

2000: Michael Green, a defensive back out of Northwestern State (Louisana) University, was the #254 by Chicago Bears. He made the roster, played in seven games, and recorded three tackles in 2000. In 2001, Green played in all 16 games, starting in two, and registered three sacks. Green has also played for the Seattle Seahawks and the Washington Redskins, who Green signed with on Oct. 14, 2008. He was not re-signed following the end of the season making him a free agent.
Jim Finn
1999

1999: Jim Finn, a running back out of the University of Pennsylvania, was selected #253 by Chicago Bears. At Penn, He holds school records for most rushing attempts, rushing yards, and touchdowns in a game. He was waived by the Bears at the end of training camp in 1999 and spent a month on Bears' practice squad. He signed with Colts as a free agent after 1999 season and fumbled in his only rush attempt in 2000 season. He accumulated nine yards in six rushing attempts over three seasons. In the spring of 2003, Finn signed with the New York Giants. In his Giants career, Finn has seven rushing yards from three attempts. He has seen more action as a receiver out of the backfield, with 325 receiving yards and 42 receptions in his tenure with New York. In 2005, he played in all 16 regular season games with 13 starts including the NFC Wild Card Game against the Carolina Panthers. His blocks for Tiki Barber helped him rush for a franchise-record 1,860 yards. Finn missed the entire 2007 NFL season after being placed on injured reserve. Finn was cut due to nagging injuries. In December 2011, Finn made headlines when he and a group of 11 other professional players filed a lawsuit against the NFL. Finn and his attorneys allege that the League failed to properly treat head injuries in spite of prevailing medical evidence, leading the players to develop effects of brain injury ranging from chronic headaches to depression.

Cam Quayle
2998

1998: Cam Quayle, a tight end out of Weber State, was picked #241 by Baltimore Ravens. During his week as Mr. Irrelevant, Quayle became the first IW honoree to drag the infield at a major league baseball game. He played professionally for the Barcelona Dragons in NFL Europe. Quayle is currently a Pediatric Dentist in Utah.

Ronnie McAda
1997

1997: Ronnie McAda, a quarterback from the United States Military Academy, was picked #240 by Green Bay Packers. In his senior year at Army, McAda passed for a career high of 954 yards and set a team record for single season completion percentage at the time with 63.2%. In the game against Navy, McAda rushed for a career best 134 yards in a 28-24 victory. He was the last player drafted in the National Football League from the U.S. Military Academy until Caleb Campbell was drafted in the 2008 NFL Draft by the Detroit Lions. Today McAda is president at McAda Management, an investment firm in the Dallas area. He currently resides in Royse City, TX.
Sam Manuel
1996

1996: Sam Manuel, a linebacker out of New Mexico State, was selected #254 by San Francisco 49ers. Along with his twin brother Sandor, Sam Manuel was taken in the seventh round by the 49ers, which virtually made them co-Mr. Irrelevants. Manuel serves as a minister at the Bay Area Christian Church, Santa Clara County. Sam also worked as the sports coordinator for XCED where he trained teenagers to attain their full athletic potential.
Mike Reed
1995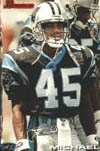 1995: Mike Reed, a defensive back from Boston University, was the #249 by Carolina Panthers. Reed was reluctant to make the trip to Irrelevant Week until then-Panther teammate Matt Elliott (Mr. Irrelevant 1992) told him what it was like to live and party for a week in Newport Beach. Reed made the Panthers roster and played in the first game, but an injury ended his season. He played three seasons for Carolina and registered two tackles. Reed is currently an assistant coach for defensive backs at Clemson University.
Marty Moore
1994

1994: Marty Moore, a linebacker from the University of Kentucky, was the 222nd by New England Patriots. He's been one of the most relevant Mr. Irrelevants in history. Moore played for eight seasons for the New England Patriots and Cleveland Browns. Moore also holds the distinction of being the first Mr. Irrelevant ever to play in a Super Bowl (Super Bowl XXXI). Moore is currently a Sales Manager at Johnson and Johnson DePuy Spine in Kentucky.
Daron Alcorn
1993

1993: Daron Alcorn, a kicker and punter from Akron University, was the 224th pick by Tampa Bay Buccaneers. It was the dawn of the short draft as the NFL reduced its college player lottery to eight rounds. Alcorn was cut by the Tampa Bay and later played for the Frankfurt Galaxy in the World League.
Matt Elliott
1992

1992: Matt Elliott, a center from University of Michigan, was selected #336 by Washington Redskins. As a Wolverine, he played all three interior offensive line positions for the University of Michigan, starting 35 games for the Wolverines during his college career. He was named the co-MVP of the January 1991 Gator Bowl at the conclusion of his junior season and earned All-American honors as a senior in 1991. Elliot played 16 games for the Redskins as a rookie in 1992. A knee injury knocked him out for the 1993 season and he was cut during training camp in 1994. In 1995 he signed with the Carolina Panthers and started 32 games for the team in three seasons. Elliott is Vice President of Sales at OrthAlign, Inc. He currently lives in Columbus, Ohio with his wife and three children.

Larry Wanke
1991
1991: Larry Wanke, a quarterback from John Carroll College, was picked #334 by New York Giants. Being a quarterback at athletic powerhouse John Carroll University made Larry Wanke a perfect Mr. Irrelevant. After the Giants cut him in training camp, Wanke founded Wanke Realty in Ohio. He and his wife have two children.

Demetrius Davis
1990

1990: Demetrius Davis, tight end from the University of Nevada, was selected #331 by Los Angeles Raiders. Davis played for the Raiders and later joined the World League, playing five seasons in Barcelona. Davis passed away in December 2012 after suffering a heart attack.
Everett Ross
1989

1989: Everett Ross, a wide receiver from Ohio State, was picked #335 by Minnesota Vikings. He was the first Big Ten Mr. Irrelevant. Ross was cut in camp, but later joined the U.S. Army. He retired from the military in 1995.
Jeff Beathard
1988
1988: Jeff Beathard, a running back from Southern Oregon State University, was selected #333 by Los Angeles Rams. The son of then-Chargers GM Bobby Beathard and nephew of ex-NFL quarterback Pete Beathard, Jeff, despite his DNA, was cut quickly by the Rams. He ended up on the Rams scouting staff after a stint in Canada.
Norman Jefferson
1987

1987: Norman Jefferson, a defensive back out of Louisiana State University, was picked #335 by Green Bay Packers. Jefferson played two years for the Packers and then returned to school to finish his degree. He later spent two seasons in the CFL with the B.C. Lions.
Mike Travis
1986

1986: Mike Travis, a Georgia Tech safety, was selected #333 by San Diego Chargers, who cut him before the season. Travis enjoyed Irrelevant Week so much that came back to Newport Beach for part of that summer and again the following year for Irrelevant Week.
Donald Chumley
1985

1985: Donald Chumley, a tackle from the University of Georgia, was taken #336 by San Francisco 49ers. Chumley made it to the end of training camp before hearing that fateful knock on his dormitory door, but ended up playing for the Calgary Stampeders in the CFL. Chumley is currently the Athletic Director/ Head Football Coach at Savannah Christian Preparatory School.
Randy Essington
1984

1984: Randy Essington, a quarterback from the University of Colorado, was selected #335 by Oakland Raiders, who cut him before the season. Essington is currently a general contractor in Chino Hills, California. His son, Kyle, is a Division 1 Quarterback at Stony Brook University and is draft-eligible in 2013.
John Tuggle
1983

1983: John Tuggle, a running back from University of California, Berkeley, was picked #335 by New York Giants. The consummate, courageous underdog, Tuggle was the first Mr. Irrelevant to survive training camp and make the team that picked him in the draft. The New York Giants took this unflashy running back from Cal with their final pick and Tuggle wouldn't give them a reason to cut him. Cancer cut short his NFL career in 1984 and eventually ended his life in 1986.
Tim Washington
1982

1982: Tim Washington, defensive back from Fresno State University, was picked #334 by San Francisco 49ers. The first Mr. Irrelevant to represent a California college, Washington was cut in training camp, re-signed and then cut again. He eventually joined his brother, Anthony (a defensive back with the Washington Redskins) in the NFL while playing a season for the Kansas City Chiefs. Ten years after being named Mr. Irrelevant, Washington died from viral pneumonia at the age of 32.
Phil Nelson
1981

1981: Phil Nelson, a tight end from the University of Delaware, was selected #332 by Oakland Raiders, who cut him in training camp.
Kevin Scanlon
1980

1980: Kevin Scanlon, a quarterback from University of Arkansas, was the second Mr. Irrelevant of 1980. Tyrone McGriff, the last selection of the NFL draft, opted for the Canadian Football League, and runner-up Kevin Scanlon became Mr. Irrelevant V. Scanlon picked next-to-last by the Los Angeles Rams was released before the regular season. Scanlon is currently Executive Vice President, Private Client Group for Stephens in Arkansas, where he began in 1987.
Tyrone McGriff
1980

1980: Tyrone McGriff, outside linebacker from Florida A&M, was selected #333 by Pittsburgh Steelers. He was the only final pick to decide not to attend Irrelevant Week. He played three years in Pittsburgh and came to Irrelevant Week in 1981 as Phil Nelson's bodyguard. McGriff remained a friend of Irrelevant Week through the years and returned to Irrelevant Week's 25th anniversary celebration. A few months later, McGriff passed away after suffering a heart attack.
Mike Almond
1979

1979: Mike Almond, a wide receiver from Northwestern (Louisana) State University, was picked #334 by Pittsburgh Steelers. Almond became the first recipient of the Lowsman Trophy. He was cut by the Steelers in training camp. Almond currently lives in Florida with his wife and daughter.
Bill Kenney
1978
1978: Bill Kenney, a quarterback from Northern Colorado University, was selected #333 by Miami Dolphins. Kenney earned being Mr. Irrelevant as the second-to-last selection when the last player taken suffered a back injury and failed to report to camp. Kenney was cut from the Dolphins at the end of training camp, but he had more success two years later, when he made the Kansas City Chiefs roster as the backup to Steve Fuller. He ended up starting games late in the year and took over the starting job for good in 1981. Two years later, Kenney earned a Pro Bowl berth, the first Mr. Irrelevant to have been selected to one. In 1989, he signed with the Washington Redskins and retired after the season. Kenney took up residency in Lee's Summit, Missouri after his retirement. He turned his attention to politics at this time, and in 1994, he successfully ran as a Republican to represent a portion of Kansas City and parts of suburban Jackson County in the Missouri State Senate. In 1996, Kenney ran an unsuccessful campaign to become Missouri's Lieutenant Governor. In 2001, Bill Kenney became the majority floor leader of the Missouri Senate, and held the position for two years. He left the Senate afterward due to term limits. Kenney currently serves as chief of staff for Lt. Governor Kinder. He was appointed by Governor Nixon to the Public Service Commission in January 2013. Kenney is also the owner of Bill Kenney Homes, a real estate development company.
Lee Washburn
1978

1978: Lee Washburn, an offensive guard from Montana State University, was picked #334 by Dallas Cowboys, who cut him in training camp.
Jim Kelleher
1977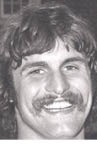 1977: Jim Kelleher, a fullback from the University of Colorado, was selected #335 by Minnesota Vikings. He was cut in training camp, but came back many times to help with Irrelevant Week festivities. He lives in Boulder, Colo., and owns Tops of Rockies, an advertising specialty and import company.
Kelvin Kirk
1976

1976: Kelvin Kirk, a wide receiver for the University of Dayton, was picked #487 by Pittsburgh Steelers in the 17th round. A wingback from the University of Dayton, Kelvin Kirk appropriately kicked off the first Irrelevant Week by missing his plane to California. A substitute Kelvin Kirk participated in the official welcoming ceremonies and motorcade until the real Kirk finally arrived in Orange County later that day. Kirk was cut during training camp, but later played seven years in the CFL. Kirk died of a heart attack in 2003.