A Red Carpet Event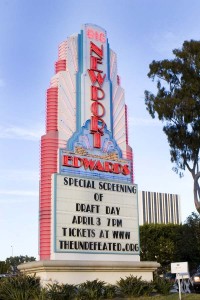 What a wonderful evening! To all our guests: thank you for attending our 'Draft Day' Movie Screening event last week! The screening was attending by approximately 800 individuals including the movie's Producer and cast, and Special Olympics California Founder and Olympic Gold Medalist, Rafer Johnson, and more than 120 Special Olympic Athletes, their families and volunteer coaches.
It was a true star-studded evening with 'Draft Day' cast members Patrick St. Esprit (Tom Michaels), Chi McBride (Walt Gordon), Josh Pence (Bo Callahan), Wallace Langham (Pete Begler), and David Dunn (Vontae's Agent), and producer, Ali Bell, as well as 'Divergent' actor, Christian Madsen, in attendance. And the evening had no shortage of athletes and coaches including Joe Haden (All-Pro cornerback with the Cleveland Browns), Jesse Sapolu (49ers), Sam Cunningham (Patriots), Matt Willig (NFL Player and Actor), Ron Yary (Vikings, Rams), Jim Abbott (MLB Pitcher), John Robinson (Coach), Terry Donahue (Coach, GM of 49ers), Mike White (Coach), Dion Bailey (USC), and Marcus Martin (USC).
Click the following Photo to View Slideshow!
Link to download photos: https://www.dropbox.com/sh/69updhrwaw36omv/YU5PVUzZRi
And check out other media coverage of the event:
http://www.nfl.com/videos/cleveland-browns/0ap2000000339332/Haden-sold-on-Browns-future
http://www.nfl.com/videos/cleveland-browns/0ap2000000339423/Joe-Haden-at-Draft-Day-red-carpet
https://www.youtube.com/watch?v=kPHqgxPBddI&feature=youtu.be
http://www.coastmagazine.com/articles/draftday-2949–.html
http://www.dailypilot.com/photos/tn-dpt-sp-0404-draft-day-gallery-20140404,0,3721725.photogallery
http://articles.dailypilot.com/2014-04-05/sports/tn-dpt-sp-0405-draft-day-special-screening-20140404_1_joe-haden-special-olympics-draft-day
Please save the dates for our next events:
Saturday, May 10 (approximately 4pm PT): Watch the Annual NFL Draft live on NFL Network or ESPN to see the announcement of the last pick – Mr. Irrelevant!
Thursday, July 10 (evening): All Star Banquet honoring Mr. Irrelevant presented by Global Cash Card
Saturday, July 12: Community Celebration honoring Mr. Irrelevant
The Undefeated's mission is to champion stories of perseverance in sports to inspire greatness in others. In order to do so, we need your support.​ Please consider making a donation today by following this link: MAKE A DONATION.
Thank you for your continued support of our worthy mission.
---
Recent Posts
Recent Comments
Archives
Categories