10 Questions With Gerald Christian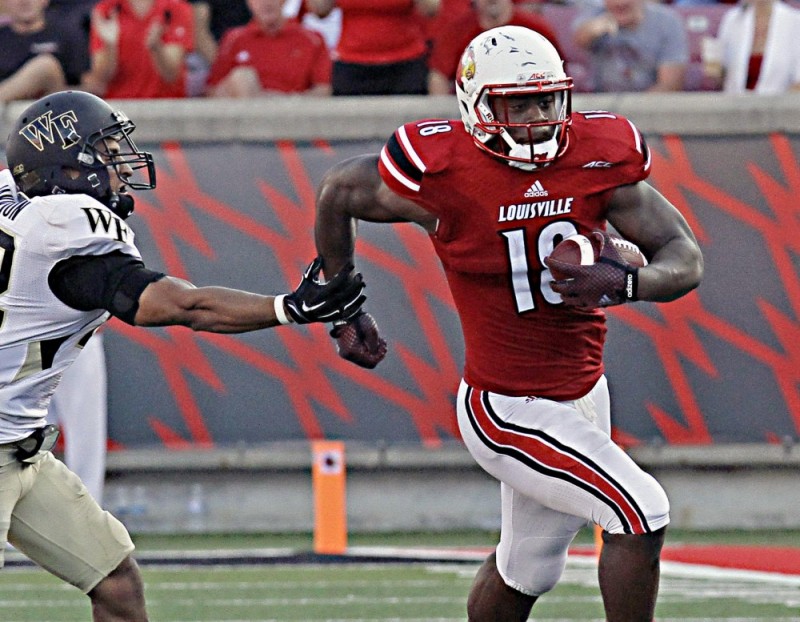 Gerald Christian of the University of Louisville was the overall final pick of the 2015 NFL draft. Christian, was chosen by the Arizona Cardinal's for the tight end position.
His perseverance will be celebrated from July 7-12 in Newport Beach, California. During the week-long event, Christian and his family will participate in several activities, including a parade and an all-star banquet, where he will be presented with the Lowsman Trophy.
Christian started his career at the University of Florida and later transferred to Louisville to pursue his dream of playing pro ball. His dedication and perseverance paid off when he was named the 256th and last pick of the 2015 NFL Draft. Playing in the NFL has been a life-long dream for Christian, a dream that was kept alive by his love for the game. His ability to succeed despite the odds is a lesson for the many other young boys out there who have that same dream.
We caught up with Christian to find out how he got here, and what's to come.
Foundation For The Undefeated: What did it feel like to hear your name called?
Gerald Christian: It felt great to hear my name called. After all the waiting and built up stress it just felt like a million pounds were lifted off of me.
Thousands of boys grow up dreaming of being in the NFL, but not many people have the opportunity to play in college, let alone make it to the NFL draft. Was there ever a point where you thought that a professional career wouldn't pan out for you? 
Honestly, I'm a very optimistic person and I've always loved football. This has been a dream of mine all my life, so I've always said that I would make it in the NFL.
Even though statistics weren't always on your side (less than 2 percent of NCAA seniors are drafted), what motivated you to keep going and working hard?
Just the love for the game and wanting to fulfill my dream. I had already come so far, so I just knew it couldn't end now. The NFL got closer and closer, and then suddenly it just felt like I could touch it. So just wanting to succeed and not give up drove me.
What was it like transferring from Florida to Louisville? Was it hard moving states? Adjusting to a new team?
Yes. Honestly, the hardest part about it was moving states and being so far from my family after being so close with them for my whole life. But I learned to adjust because I knew I was at Louisville for an important reason.
What challenges have you faced both on and off the field that have shaped who you are both as a player and a person?
Football is such a demanding sport that developed my discipline and mental and physical toughness. I also grew up not having much, and learned from a young age that nothing in life is just given to you. If I wanted something, I had to work for it.
As a new NFL draft pick, what are you most excited about right now? Is there anything that you're nervous about?
I'm so excited to be able to get back to football. All the 40s and testing is over, so now it's time to get back to ball—I can't wait.
What advice would you give to kids who want to play football in college or even professionally?
If that's what you want to do, you have to work for it. Don't make excuses for yourself, and do whatever it takes to succeed. You may have to work a little harder than others, but when you finally get what you worked for, it feels so rewarding. Nobody can take that from you.
What tips would you give to college players who are already thinking about next year's NFL draft?
Don't be too focused or worried about it. Just take care of yourself and control the things you can control as far as your body and your play on the field. Everything else will take care of itself.
How has your family influenced and/or been a part of your football career? How do they feel about you being being drafted for the NFL?
They have always been supportive of me along the way,  just encouraging me and praying for me, as well as keeping me focused and levelheaded. They think it's funny that I'm Mr. Irrelevant, but happy that I fulfilled my dream.
Does being the last pick give you an edge, or opportunity to work harder to become apart of the Arizona Cardinals NFL team?
Most definitely. It just gives you that extra little push to come out and work and help contribute to the team.
Keep following along for more updates here and on social: Facebook | Twitter | Instagram
---
Recent Posts
Recent Comments
Archives
Categories