Charitable Partner: The California Showcase
The California Showcase is a free one day, non-profit event presented by Coach Terry Donahue (formerly of UCLA, 1976-1995) and the National Football Foundation (founded in 1947 with current President/CEO Steve Hatchell) for high school seniors to display their skills to Division II, III, and NAIA football programs. Coach Donahue and the National Football Foundation believe that the opportunity of playing college football while earning a college degree has a profound effect on changing young peoples' lives.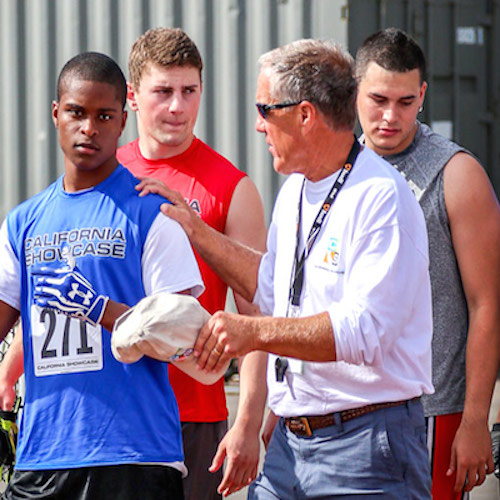 The average scholarship and financial aid award for a four-year colleges is approximately $20,000 per year. In the first three years, approximately $8 million in financial aid packages has been granted to participating athletes. Students have gone on to 20 different states across the country plus Washington DC. We're hoping 2016 will be an even bigger success story and we're looking forward to the results!

The Showcase will be held Saturday Feb. 20, 2016, at the Orange County Great Park in Irvine, California. It will feature athletes from all over California and bring together outstanding educational institutions in Division II, III, and NAIA programs from across the country. The Showcase will be organized and managed by quality football coaches hand selected by Coach Donahue. A series of tests and drills will be run that will best display each player's various talents at their respective positions. Following the activities, players and universities will meet to discuss scholarship opportunities for the participating athletes.
For more information, visit www.cashowcase.org.
---
Recent Posts
Recent Comments
Archives
Categories