Eric Beverly: Sticking With It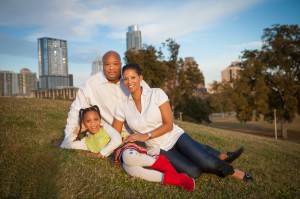 Eric Beverly experienced challenges at an early age that taught him how important it is to honor his commitments. The trials continued in his football career: first, when he was undrafted, then suffered and battled back from a catastrophic shoulder injury, and later was cut for the first time by newly hired Atlanta Falcons coach Bobby Petrino. But nothing could have prepared him for the biggest challenge of his life: his wife's third bout with breast cancer.
In what would have been his 11th year with the NFL, Eric Beverly was participating in off-season workouts with the Detroit Lions when he received the devastating news that his 33-year-old pregnant wife, Danielle, had been diagnosed with breast cancer for the third time. After giving birth to a healthy baby girl, Lia, Danielle underwent surgery to remove the cancerous tissue and started radiation and hormonal therapy.
Finding himself at a crossroads, Eric weighed his options — to be selfish and think about his own career and that he could make x amount of dollars, or to be with his family. He made the decision to leave a six-figure contract … and he's never regretted it.
An undrafted free agent who played college football for Miami University, Eric started his pro career as a tight end with the Lions in 1997. He set a goal of playing 10 years with the NFL, which he accomplished — seven seasons with the Lions and then on to the Atlanta Falcons, where he suffered what could have been a season-ending shoulder injury. Never one to throw in the towel, he stuck with it and stayed with the team for three years only to be released by newly hired head coach Bobby Petrino. Finding himself out of work, he was picked up almost immediately by the Lions in 2007 and then decided to give up what would have been the 11th year of his career to help support his wife and Lia, who is now 6 years old.
Today Danielle is cancer-free, and she and Eric, who now serves as Assistant Athletics Director for Football Academics at The University of Texas, continue to learn what it means to live beyond breast cancer. Now he is thankful for what life served him along the way — going on to meet people he never would have met otherwise, embracing the community through volunteerism and philanthropy, and forming The Eric R. Beverly Family Foundation  to bring awareness to and to provide support and resources for families facing breast cancer.
Below, Eric discusses the obstacles he faced along the way and how he has worked to overcome them.
The Undefeated: Was there ever a time in your life or sport when you considered giving up?
Beverly: There's no specific time that I was like, 'I'm giving up,' or I felt like the world was ending personally, professionally or academically, or even growing up. I know there have been plenty of times (even now there is) that the little man in the back of my head says, 'Why are you doing this? You don't have to do it.' That happened earlier today. I had a conversation, and in back of my mind I was thinking, 'I don't need to be doing this; I could do something different.' What helps me overcome that is the commitment I've made — whether it's professional or personally with my marriage, or my daughter or even myself — to stick with it. My parents were able to raise me in a manner where if you give somebody your word it means something. The greatest compliment I can get from individuals I've known for a long time is that I'm the same person now that I was growing up. That means to me that I haven't changed. It means I was good when you knew me before and I'm good when you know me now.
There definitely were multiple times when I felt like, 'Man, I would like to give up, or I would like to throw in the towel.' Athletically, when you're going through two-a-days or workouts, you're like 'I don't need to do this. I could be in an air-conditioned room or sitting on a couch doing nothing.' Even when I was playing, fighting through injuries or the season wasn't going well, I'd say, 'I have enough money to retire now or things could be better if I did this.' But I learned a long time ago that the grass isn't always greener on the other side. Even in my personal life, in marriage, you go through ups and downs, and the good and ugly, and you get the urge to quit.  But I learned a long time ago that the grass isn't always greener on the other side.
The Undefeated: What were the hardest, most difficult things you encountered; what was your biggest challenge?
Beverly: From an athletic standpoint, I got a serious injury in 2004 when I was playing with the Falcons, where I dislocated my shoulder and tore my biceps tendon, labrum and rotator cuff (basically, my whole shoulder). I continued playing throughout the rest of the season, but had surgery in the off-season at the beginning of 2005. So, it was tough getting back and getting back to a point I felt that I could compete at a level I had previous to the injury. That was difficult, but it wasn't insurmountable at the time.
From a personal standpoint, when I was growing up, my parents were separated and that was tough for me. I was by myself, because my brother had already left home and gone into the Navy. I was the youngest of two kids, and I had to experience that whole ordeal by myself. But even though it was tough, I got through it. It was also something that helped me later on in life, because through the mistakes my parents made I also saw some of the good things they did during those mistakes, and I still reflect back on when my parents got separated and I saw my mom and dad continue to have a commitment to their family during that time. They still have that commitment, because they both said early on that they would never break that even though they were not married any more.  The commitment to love and take care of us, was their responsibility.  I've taken that to heart in my own life, that when you make a vow to somebody, regardless of your situation, you must always be there for that person.
With Danielle, what she went through was tough. I tell people that it was tough on me, but it was tougher on her. I can't even imagine going through what she went through, even though I went through it with her. There's a disease in my body that's incurable and I have to fight it and when I'm just 29 years of age. When I look back at it, I was a caregiver and I was a supporter, and it affected our lives and still affects our lives. My experience is a lot lighter than what she had to experience. I never placed that responsibility on myself and made it seem like I was the one who overcame so much … it was really her. Dealing with that situation, it was more not just about dwelling on it but more of, 'How can we move forward and get better?' A lot of that came form my sports background: not dwelling on the past and not looking at what you've done, but what you can do in the future; how you can get better. There's a task at hand, now how can we get that task done? Or there's a problem, and how can we solve this problem? With her getting breast cancer, I knew I couldn't solve the problem right away. I had to be there to make sure life still went on. There were a lot of breaking points for us individually, with her and also in our relationship. There were times when we were like, 'This is not going to work out.' There were a lot of woe is me, feeling sorry for ourselves and a lot of that stuff, but it took me to snap her out of it and her to snap me out of it, and my friends and her friends to snap both of us out of it. It was a community effort depending on what time of day it was or what situation it was, because I know that our marriage would not be as good as it is right now had we never gone through the physical, emotional and relationship issues we've been through. But it was difficult during those times … and would I want to repeat those times? No, I wouldn't. I don't want to make those mistakes again. We kind of look at it now as breast cancer gave us the ability to get know more people. Through our research of and understanding the disease, we developed relationships because we were in a world with breast cancer. There are multiple individuals we've helped and who have helped us because of the simple fact that Danielle had breast cancer. A lot of times we look at it as that it's been a blessing to us. It sounds like an easier said than done type deal, but I come from the mindset you don't dwell too much on the past and you definitely don't talk about it too much with people.
The Undefeated: How have you persevered in the face of your challenges?
Beverly: I was at the tail end of my career and going on my 11th year playing and never had the chance to complete it. I always had the goal to get to 10 years. As an un-drafted free agent, I never even had the dream of playing professional football at all, but when I had the opportunity, it was just taking it one day at a time, and one day turned into a year and the first year turned into a multiyear contract. Once I got a hold of things, I started setting goals for myself form a career standpoint: I wanted to become a starter and wanted to financially get a multiyear contract, and then there are the goals I had outside that were attached to that. During the off-season, I wanted to make sure I could do this internship or be able to facilitate some type of role in this career path, because I knew football was going to end at some point. I don't know why 10 was a mark I wanted to get to, but once I got to that point physically and mentally, I was at a point where I was thinking about life after football. Bobby Petrino had come into Atlanta, and he was the only person in my career who had ever cut me. So, I was released from the Falcons and Detroit signed me back and Rod Marinelli was head coach and Mike Marsh was the offensive coordinator, and I went through training camp, and mentally I was like, 'I don't know how much longer I want to do this.' But when Danielle got sick, every day I went out to practice and my mind wasn't on getting better as a player and as a professional, it was more on 'I want to make sure my wife and daughter were OK.' With our daughter Lia being born at that time, and knowing that Danielle had to go through treatment and had to go through it as a first-time mom, it was that time for me to be there and I couldn't be selfish and think about my own career and that I can make x amount of dollars. It was time for me to be with my family and I made that decision. I haven't regretted it. You can always look back and say, 'Could I have done the same thing and still played and made an extra couple bucks?' But I don't regret anything I did.
The Undefeated: How has that challenge positively influenced your life?
Beverly: It was more that it showed us there is a bigger picture to life. You can easily get caught up in mundane things that don't mean anything, and dwell on them and spend time on them, and we still do. Or you can say, 'This is a setback and there are bigger problems going on in this world and I can't let this minor issue bombard us with all worry and troubles.' It's made us stronger to fight through our issues and adversity, and it's helped us to develop relationships outside of our boundaries in our community because we made a point to really give back to our community in regards to breast cancer. So, it forced us to say, 'How can we do more and give back?' It's also going to create an avenue for our daughter to see it's not just about you; life is about giving. We are Christians, and believe in God and Jesus Christ, and the sacrifices you have to make at times for people and your family, and we're trying to be living examples of that. We're not perfect, by all means, but the fight Danielle has gone through has given us an avenue to show our daughter that regardless of your circumstances, you can still do more.
The Undefeated: What advice do you have for individuals facing adversity or challenges?
Beverly: Just take it one day at a time. That's all you can do. You may not be able to solve it, but one thing you can change on a daily basis is your attitude and your approach toward it. You can be miserable and upset and angry about a situation and nothing happens, or you can have a positive attitude toward it and try to get better and you have a chance of beating it. One thing I told Danielle when she was going through her treatment and she was ready to give up (and I used this not as my words, but words from the movie "The Shawshank Redemption"), I told her you can 'Get busy living or get busy dying.' It was crazy how that just popped in my head and how I said it to her. Now she will repeat that I said it to her and that's what she was doing — she was slowly dying and slowly giving up on life — and I said, 'You have more to fight for than yourself.' I think that's helped us see there is more to life than just us, even though we can be selfish at times and we do on a daily basis think sometimes just about ourselves and don't think about others and how our behavior is going to affect us a whole. So, this has been an opportunity for learning the lesson that there's a bigger picture for our family and a bigger plan for whole deal of life we go through.
The Undefeated: What does being "Undefeated" mean to you?
Beverly: I would say never giving up. You may lose, but you won't ever give up. To me, that's being undefeated: having that attitude, just having that kind of character or that work ethic in you that regardless of the situation I won't ever give up.
---
Recent Posts
Recent Comments
Archives
Categories